Podcast: Get to Know our Special Enforcement Division
April 5, 2021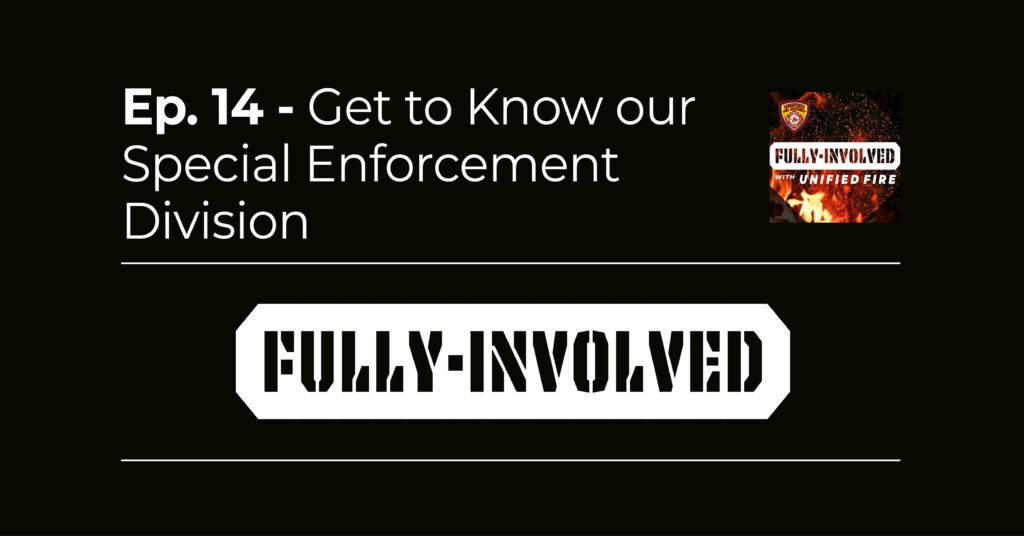 Fully Involved with Unified Fire
Get to Know our Special Enforcement Division
April 5, 2021 – Season 1 – Episode 14
Available anywhere you listen to podcasts.
On this episode:
We dive into the responsibilities of our Special Enforcement Division (SED) with Division Chief Steve Ball and two of our Investigators, Steve Bowen and Paul Larsen. Arson and Explosive related incidents are considered two of the most dangerous criminal activities that threaten our citizens. The team utilizes highly-trained and certified canines (K9s) that assist with accelerant and explosives detection. The SED houses an FBI accredited Bomb Squad and conducts investigations for fire related calls for service. If the cause is criminal, they investigate and apprehend offenders. Special Enforcement also manages the SWAT Paramedic Program, conducts Professional Standards investigations as needed, and conducts background investigations for new-hire personnel. We wrap the episode with a discussion on what individuals interested in joining the division can expect. At least a five-year commitment is preferred due to the training and education necessary to work in this specialty.
Guests:
Special Enforcement Division Chief Steve Ball
Investigator Steve Bowen
Investigator Paul Larsen
Follow us:
Facebook – @unifiedfireauthority
Instagram – @unifiedfire
Twitter – @fireauthority
YouTube – @unifiedfire
Don't use Spotify? You can also listen here on our Buzzsprout website.