Wildland
Employment Opportunity
Seasonal Wildland Firefighter 2022 Season | Application here
Interested in becoming a Wildland Firefighter? Learn more here
---
Daily Duty Officer 385-202-0030
6 Minutes for Safety
Daily National Situation Report
SLC Fire Weather
Duty Roster
About Wildland
UFA's Wildland Division provides highly trained and experienced wildland fire and all-risk response resources to local, State and Federal incidents. The Wildland Division oversees the training and certification of UFA personnel for response to wildland fires and all-hazard incidents. We also work with UFA Communities to educate residents on wildfire preparedness and provide mitigation services to reduce the risks of wildfire. The Wildland Program provides the following services:
Wildland fire risk assessments for property and homeowners within UFA jurisdiction
Wildland fire education and Community Wildfire Protection Planning to prepare communities to become Firewise and be recognized as Fire Adapted Communities
Fulfilling legislative commitments for cost sharing agreements with the State of Utah
Wildland fire mitigation services in areas with an increased risk of wildfire
Training and certification for all UFA field personnel to improve safety and response to wildfire incidents at the local level
Wildland Duty Officer (NWCG Incident Commander Type 4 or higher) for wildfires in UFA jurisdictions and neighboring entities upon request
NWCG Qualified Type 3 Incident Commanders (and various other positions) for local Type 3 teams responding to wildfire and all-hazard incidents on the Wasatch Front
Type I trainee hand crew
Two Type IV Wildland Urban Interface engines
Single Resource Program (UFA provides various incident overhead positions, Paramedics and incident management team members nationally; this program is operational year-round depending on UFA staffing needs)
End of Season Reports
Division Leader
Wildland Division Chief
Anthony Widdison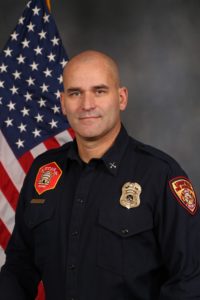 Organizational Structure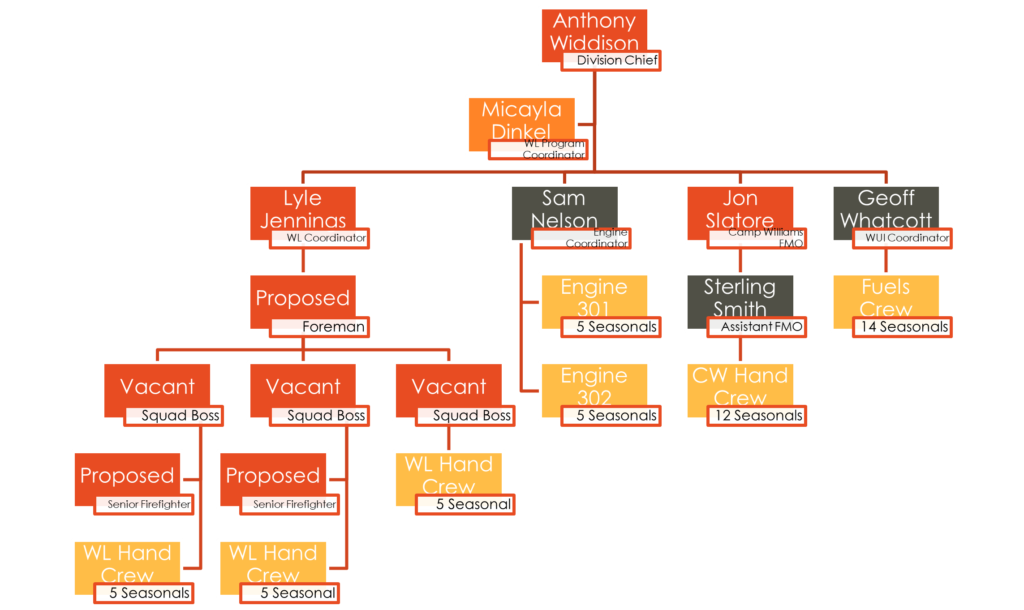 * Wildland utilizes personnel from Emergency Operations from April-October each year. These personnel are on loan from Operations and work under the title of Wildland Specialist. They fill leadership positions on the engines, fuels crew, and with Camp Williams. All costs (salary, overtime, and benefits) are covered by Wildland Fund budget for the time they are assigned to the position. Their absence from Operations does require overtime shifts to cover their shifts.
FY20/21 Accomplishments
The 2020 wildfire season was historically busy for the nation, including large catastrophic fires throughout the Western States. The Division supported over 140 deployments to 8 different states, 3 Emergency Management Assistance Compact (EMAC) deployments to California and Oregon, provided initial attack to multiple local fires and completed over 5000 hours of project work for UFA Communities.
For FY20/21, the Fuels Crew was funded with a transfer from General Fund, State of Utah contracted project work and awarded grants. The crew conducted the majority of the 5,000 hours of mitigation work through chipping and fuels reduction projects. The crew responded to multiple local fires (including Crestwood, Parleys and Neff's fires), conducted wildfire risk home assessments and hosted Chipper Days for high-risk communities within UFA jurisdiction.
The busy wildfire season provided multiple opportunities for the Division to facilitate training and qualification advancement. We certified several high level positions in accordance with the National Wildfire Coordination Group (NWCG) and continued to supply the full-time staffing pool with qualified candidates (2 seasonal employees were hired as full-time firefighters with UFA).
The Division was able to participate in prevention, preparedness and mitigation work for UFA communities. We made great progress with the finalization of CWPP's, hosted FireWise days and completed countless hours of mitigation work. As stated before, over 5000 hours of mitigation work were done for UFA communities and over 250 home assessments were conducted. CWPP's for several UFA communities were all finalized and/or updated.
During the FY20/21 Budget Process the Board approved the upgrade of three Firefighter positions to Wildland Specialists. The promotional process was completed in February 2021 and three firefighters were promoted to the positions. The three specialists will be transferred to the Wildland Division from April- October and will return to Emergency Operations to work at Station 103 for the remainder of the year.
The Wildland Division received Board approval for the upgrade of three seasonal positions to Variable FTEs. These are leadership positions on the Hand Crew that are required for certification as an Interagency Hotshot Crew.
The 2020 wildfire season provided sufficient opportunity for our crew to be utilized as a Hotshot Trainee Crew, which contributed to a higher number of days on assignment and generated revenue above the projected amount. The Hand Crew is compliant with the certification process and will continue to work toward meeting minimum requirements outlined in the Standards for Interagency Hotshot Crew Operations Guide, with the goal of becoming a fully qualified Interagency Hotshot Crew by FY23/24.
Relationships were created and fostered with the State of Utah and Division of Forestry Fire and State Lands and other key players from the BLM and Forest Service.
It was also a good opportunity to secure State of Utah contracted mitigation funds and apply for grant funding for wildfire prevention purposes. Several grants were submitted to various agencies for funding of mitigation work in our service area in the amount of $185,000 and nine projects were secured under contract in the amount of $235,500. This funding will help offset the cost of Wildland Division personnel.
FY21/22 Action Items
We are fully committed to fulfilling the actions necessary to achieve the objectives found in the 2021- 2023 Unified Fire Authority Strategic Plan. As a division of the organization, we take ownership of our portion of the plan and will implement the necessary actions to meet our commitment. We will continue to act on areas that will improve our service delivery and program operations.
Update and manage Community Wildfire Protection Plans already completed by January 2022
Complete Community Wildfire Protection Plans for UFA Communities not already in place by January of 2022
Use initial attack responses to train and mentor UFA Operations personnel on local wildland fire responses by July 2021

Utilize the Incident Qualification System to evaluate current task books

Complete or initiate Firefighter I and IC5 task books for Operations Battalion Chiefs and other interested field personnel

Evaluate progress of those who have current qualifications; support the initiation of task books at the next level of the Incident Command System

Train and staff the Fuels Crew to help complete project and mitigation work, and to be available for local wildland fires by July 2021 (increase the number of personnel to 15)
Evaluate capital needs for all programs, create a Capital Replacement Plan and identify options for funding
Remain compliant with the certification process for the Hand Crew to be recognized as a Hotshot Crew by July 2024
Fill the three remaining leadership positions for the Hand Crew as Variable Full-time Employees to meet the requirements for Hotshot Crew certification
Have an active role in the Utah Training and Certification Committee to ensure UFA's training needs are being met