911 Emergency Transport
Since its inception in 2004, through July 2008, Unified Fire Authority had a contract with Gold Cross Ambulance to provide ambulance transport services within its jurisdiction, with the exception of Draper and Riverton. Gold Cross billed patients for transport and then remitted a Paramedic Aboard fixed fee (PMA) to UFA for each transport utilizing a UFA Paramedic (PM), who had the ability to provide both Advanced Life Support (ALS) and Basic Life Support (BLS).
Beginning July 2008, UFA assumed ambulance transport responsibility from Draper and Riverton, and after negotiation with Gold Cross Ambulance, UFA obtained licenses to provide 911 emergency ambulance transport services on the west side of UFA's jurisdiction. UFA began providing 911 emergency ambulance services to all communities within UFA jurisdiction July 2009.
The 2008 agreement between UFA and Gold Cross provided UFA with the exclusive license from the Bureau of Emergency Medical Services to provide 911 Ambulance Service, defined as all ambulance transports that are initiated by 911 emergency call to UFA's dispatch service or initiated by call to Gold Cross's seven-digit telephone number and are designated for referral to UFA. Gold Cross is available to provide back up to the UFA for 911 Ambulance Service in UFA's service area, but only at the request of the UFA.
The 2008 agreement also provided Gold Cross with the exclusive license to provide all Non-911 Ambulance Services, including Interfacility transfers. Municipality sponsored events, in which sponsors request UFA's assistance for ambulance stand-by service, is excluded from this agreement.
UFA Transport services expanded in 2011 with Midvale City and in 2013 with Eagle Mountain City joining the UFA. In July 2017, Draper City separated from UFA and provided its own ambulance transport service within its community. Also in July 2017, the number of UFA frontline ambulances reduced from 26 (combination of jump units and staffed units) to 10 (staffed units). Ambulances transitioned from ALS to BLS and most of the Heavy apparatus became ALS units. All part-time firefighter employees transitioned from assignments on the heavy fire apparatus to EMS-only personnel working on the ambulances.
Five of the UFA's ten ambulances were staffed with EMS personnel, five with full-time Firefighters and five with part-time EMS. In Fall 2017, one part-time EMS 24-hour ambulance converted to two peak demand ambulances and a third peak demand BLS ambulances was added staffed with part-time EMS.
Multiple factors resulted in these changes:
Importance of communities in having as many four-person crews as possible.
Difficulty in hiring and retaining qualified part-time Firefighters.
Separation of Draper City from UFA and the closing of fire stations 107 and 120.
Reduction in ambulances to facilitate with increasing the staffing on heavy apparatus.
No longer utilizing part-time Firefighters on heavy apparatus.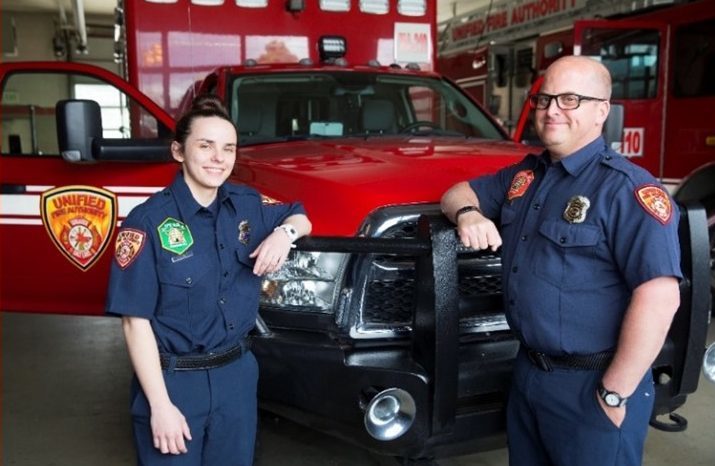 Under the new staffing model, it became evident that changing ambulances from ALS to BLS was affecting the transport volume and ALS/BLS billing rate; thereby affecting the revenue. Mutual aid arrangements with neighboring agencies were utilized to transport patients when ALS ambulance transport was needed, as well as when UFA ambulances were unavailable for BLS transport. There were several pockets of the UFA that also required a third unit to achieve ALS care, causing an excessive response to a routine emergency.
Staff also identified the challenges in its dependency on the part-time EMS only program. In 2017, UFA was staffing eight 24-hour seats and six 12-hour seats with part-time staff. This required a total roster of 130 part-time employees. This roster experienced significant turnover and was causing challenges when needing experienced personnel to staff the ambulances.
Chief Petersen called for an evaluation of the 911 Emergency Transport program, first, to evaluate the net cost of providing transport services and second, to evaluate the options to serve our communities best.
Assistant Chief of Emergency Operations, Stephen Higgs, headed a discussion on the cost of a variety of options and then established an Ambulance Staffing Committee to study options with respect to 911 Emergency Transport. Personnel from across UFA were brought together to study the issues, ultimately Six options were identified and reviewed for their effectiveness and efficiency.
Options reviewed by the Ambulance Staffing Committee:
Option #1: No changes to current staffing – Operate with nine 24-hour BLS ambulances (five staffed with full-time Firefighters and five staffed with part-time EMS) and three peak demand BLS ambulances staffed with part time EMS
Option #2: Reduce the dependency on the part-time program and hire full-time Firefighters to staff the 24-hour ambulances, continue staffing peak demand ambulances with part time EMS staff
Option #3: Eliminate the part-time program – Staff five full-time Firefighters on five ambulances and full-time EMS only on all remaining ambulances
Option #4: Eliminate part-time program and full-time Firefighter positions on ambulances and staff all ambulances with full-time EMS only at the BLS level
Option #5: Eliminate part-time and full-time Firefighter positions and staff all ambulances with full-time civilian EMT's and Paramedics (Single medic, single EMT)
Option #6: Eliminate all ambulance transport by UFA and collect Paramedic Aboard fee from transporting agency
The options were examined for several months, including a six-month beta test using full-time staff and pairing one EMT with one Paramedic on all units at three fire stations.
Option #2 was recommended to Chief Petersen, including the implementation of a single PM/single EMT (1-1) staffing model. This proposal did not have unanimous agreement among those on the committee; however, the majority of the committee felt the option was the best for both the organization and the communities served.
The recommendation also required the transition from five full-time Firefighter ambulances and four part-time EMS ambulances to one full-time Firefighter ambulance with eight blended full-time and part-time EMS ambulances. The peak demand ambulances would transition from BLS to a Paramedic and EMT and continue to staff from the part-time EMS only employee group. This change represented a significant departure from the historical method of providing ALS care. Two Paramedics had been on ALS units since the inception of ALS care at the UFA (Salt Lake County) in the 1970's, however, as mentioned before, this model offered more for the community and the organization.
The following identified why the 1-1 model was important to the Vision, Mission, and Values:
Every incident has a Paramedic on the first arriving unit; a second Paramedic will arrive either at the same time or quickly thereafter.
A UFA PM can care for the patients from first touch to the hospital.
A four-person crew can be back in service quickly with three personnel until their PM returns.
There is no need for a third unit for normal ALS incidents.
UFA does not lose transport revenue with mutual aid agencies providing transports.
Deployment is consistent across the UFA, allows the CAD to work without interference.
Allows for rotation of personnel between the heavy apparatus and ambulances.
No employee is permanently assigned to an ambulance
Provides expansion of the Firefighter's role in patient care.
Eventually staffing nine 24-hour ambulances with career Firefighters will enhance the service capacity.
Primary challenges encountered with the transition to single Paramedic-single EMT (1-1):
This implementation is a major change for Paramedics, and outside of traditional practice.
EMT's require more training on supporting their partner PM; an Advanced EMT program should be available for Firefighters.
There is a return to part-time working on the same crew as career staff.
The need to hire 24 new Firefighter positions (eight per day) to replace the part-time EMS only on the 24-hour ambulances.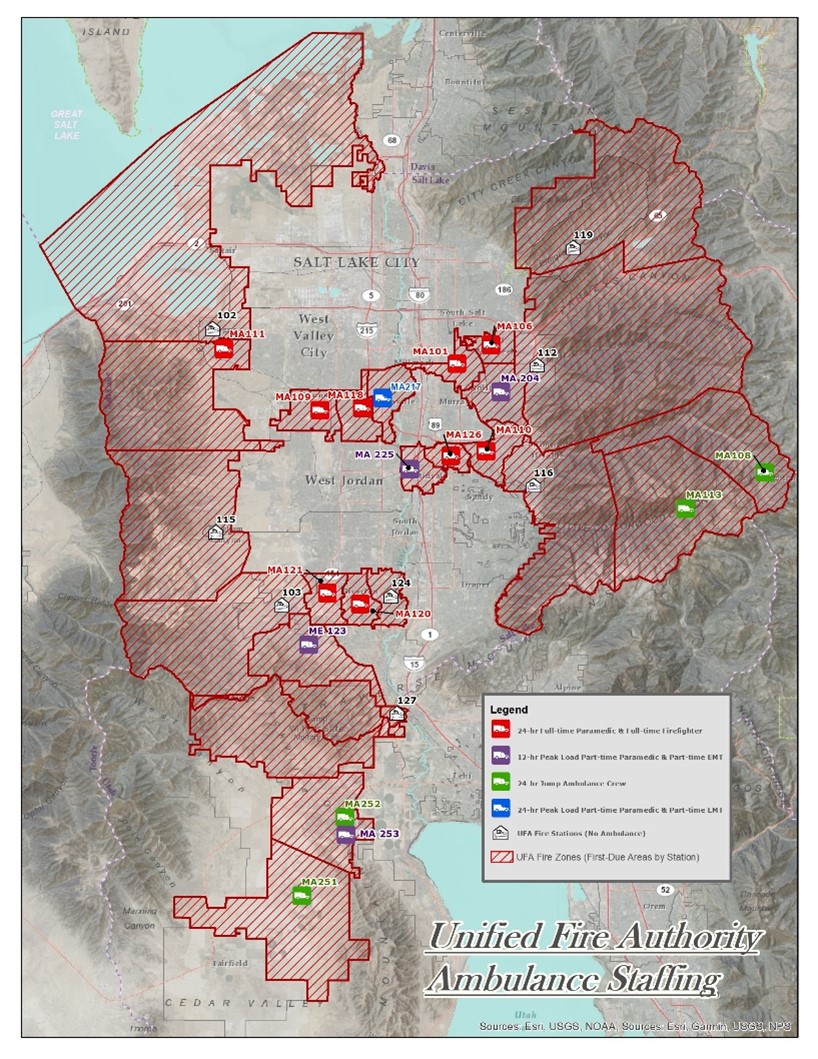 In November 2018, the UFA Board of Trustees accepted the recommendation presented by Chief Petersen and authorized six new Firefighter positions immediately and accepted the plan to transition the 24-hour ambulances from part-time EMS to full-time Firefighters. The FY19/20 budget proposed nine additional positions, with nine positions to complete the transition proposed in the FY20/21 budget.
The one EMT and one PM (1-1) process was launched February 2019 and has succeeded in providing Advanced Life Support (ALS) to the public with every emergency response unit in the UFA service area.
To improve response times and increase UFA's ability to service its communities' transport needs, the UFA Board approved adding two peak load ambulances. Peak load ambulances were added in Eagle Mountain in July 2019 and in Herriman City in October 2019. In April 2021, UFA expanded peak load service in Taylorsville with UFA's first 24-hour peak load ambulance stationed at Station 117. We will also increase to peak load service in Holladay (from six to seven days per week) beginning July 1, 2021. In order to accommodate continued growth in Eagle Mountain, a peak load ambulance is planned to convert to full-time 24-hour coverage in June 2022.
Financial Aspects of 911 Emergency Transport
UFA contracts with Gold Cross to provide ambulance billing services. UFA is responsible for quality assurance (QA) on all transport patient care reports. Crewmembers prepare patient care reports for QA review, which is then performed by Emergency Medical Services (EMS) staff to ensure that reports are accurate and complete prior to being sent to Gold Cross for billing. Gold Cross converts these reports into a billable format for reimbursement, as well as receiving and applying payments, correspondence with patients, and pre-collection services.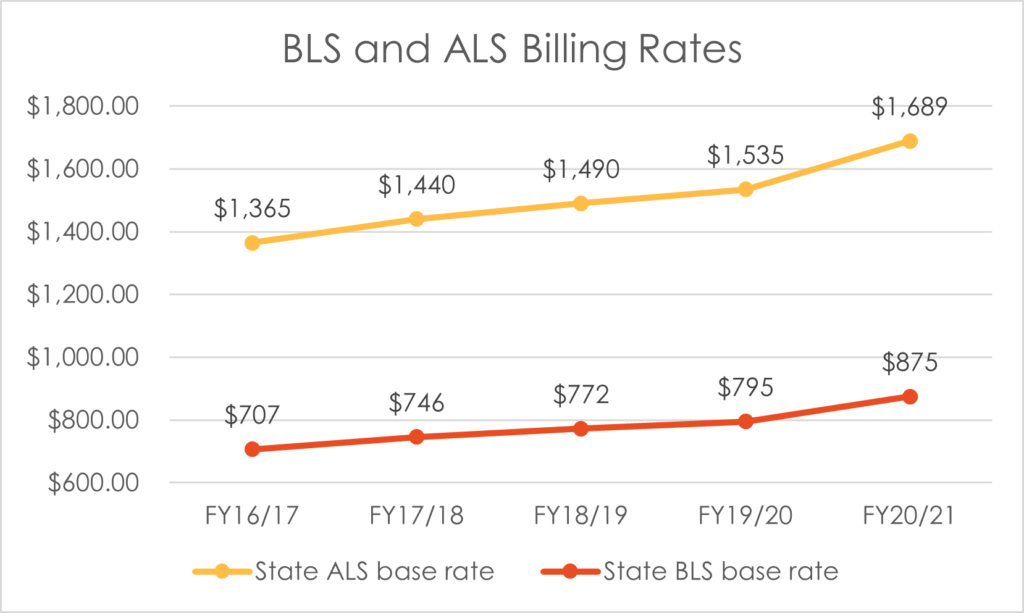 The State of Utah authorizes UFA to bill different rates for Basic Life Support (BLS) and Advanced Life Support (ALS). UFA reviews the actual service provided to the patient during the treatment and transport to determine which rate to utilize. The ALS rate is applied when advanced procedures administered require a Paramedic and the BLS rate is applied to all other transports. Historically, billing has been split approximately 64% ALS and 36% BLS. With BLS ambulances in operation for FY17/18, the actual split was 60% ALS and 40% BLS. After implementing 1-1 staffing model, UFA was able to return the ALS/BLS split to 63%/37% in FY18/19 and 64%/36% in FY19/20.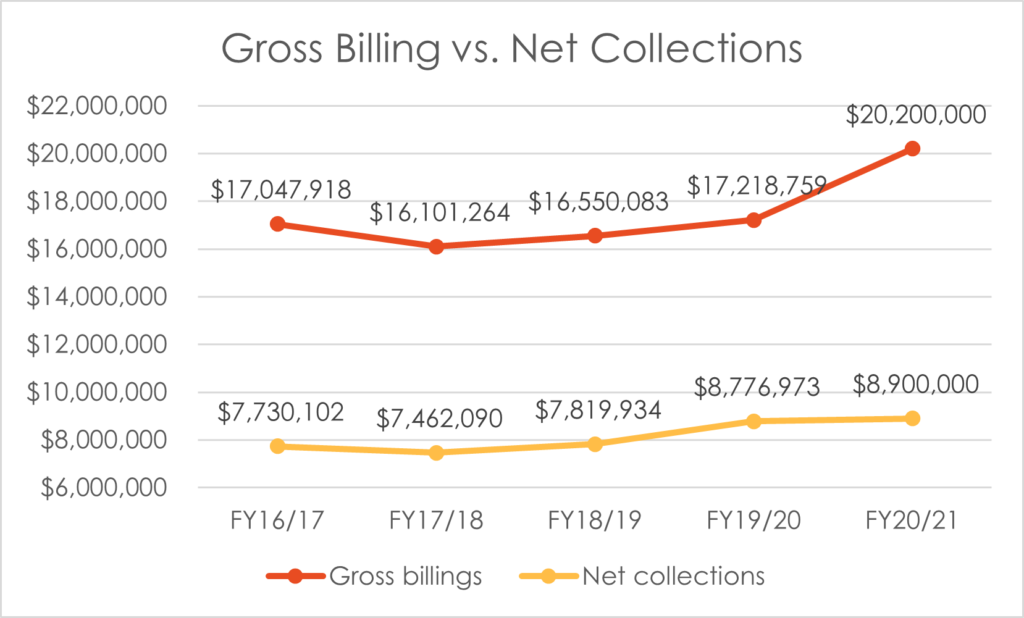 Gross collection rates are determined by comparing net payments made to amounts billed. Net collection rates are determined by comparing net payments made, less contractual discounts, to amounts billed. The following chart shows the gross collection versus net collections from FY16/17 to FY20/21. Gross collection rates have run from 44% to 51% of total billing.
Note: FY20/21 figures are based on estimates
Payer mix affects the ability to collect for transport bills; the percentage of revenue from private insurance, government insurance and self-paying individuals. UFA segments its accounts into five different payer categories, which comprise our payer mix. Each of these payer types has a different collection rate.
The following chart shows the FY19/20 Payer mix along with collection and activity data for each: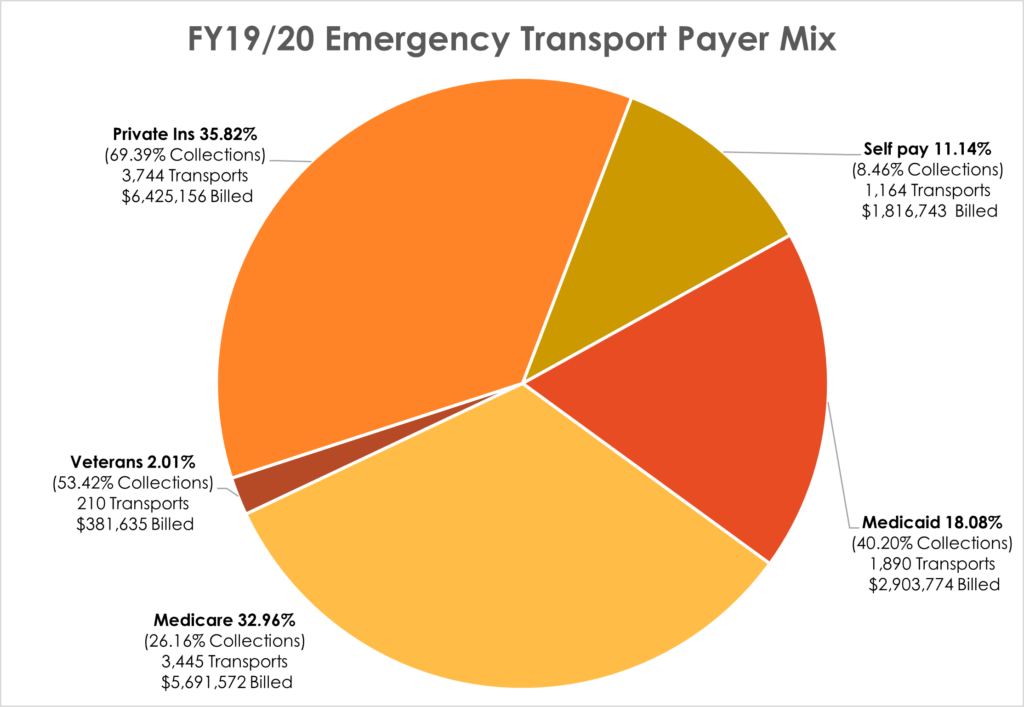 Fixed payers pay a fixed amount set by the government and UFA is unable to collect the balance above the allowable amount. The balance must be written off as a contractual discount, which creates a difference in collection rates. Medicaid collection was 51.4% in FY19/20; however, after applying the state assessment for Medicaid, the actual collection rate drops to 40.2%.
Privately insured individuals are billed the remaining balance after private insurance meets its payment obligation. Self-pay (uninsured) patients typically do not have the means to pay for their transport and collection on these accounts is generally the most difficult.
The following chart represents the fully loaded cost of operating ALS transport service. The operational salaries and wages represent the cost of staffing the ambulances. We have allocated non-personnel costs based on what may be eliminated if 911 emergency transport were to no longer be provided by UFA.