Podcast: Incident Review – 3 Alarm Fire in Midvale (01.17.21)
March 10, 2021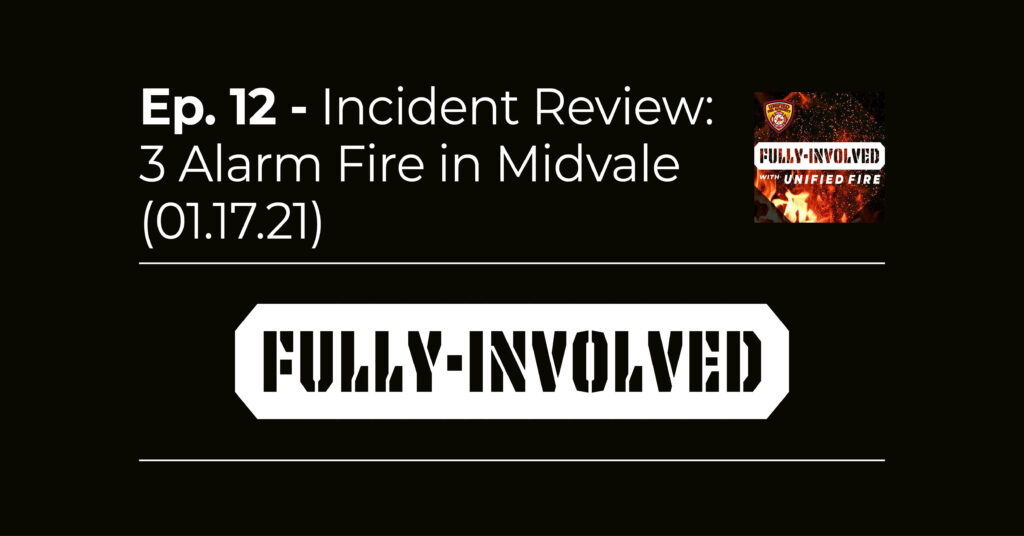 Fully Involved with Unified Fire
Incident Review: 3 Alarm Fire in Midvale (01.17.21)
March 9, 2021 – Season 1 – Episode 12
Available anywhere you listen to podcasts.
On this episode:
We review the 3 alarm fire UFA responded to on Jan. 17, 2021 at the Union Center Medical Complex in Midvale impacting 10 local businesses. Battalion Chief McBride talks through some of the challenges faced while fighting this fire related to problems with water supply and accessibility. Operations Chief Dern touches on the interagency coordination and how well we integrated working with our neighboring agencies. Fire Prevention Division Chief Larson speaks to how fire code has changed since this building was constructed in 1985, before smoke detectors and sprinklers were required. He also explains how our Prevention Division is taking a proactive approach to educate and make contact in our communities to avoid a loss like this in the future.
News segment courtesy of Fox 13 Salt Lake City. You can view their full article here.

Guests:
Operations Chief Dusty Dern
Battalion Chief Scott McBride
Fire Prevention Division Chief Brad Larson
Follow us:
Facebook – @unifiedfireauthority
Instagram – @unifiedfire
Twitter – @fireauthority
YouTube – @unifiedfire
Don't use Spotify? You can also listen here on our Buzzsprout website.