Human Resources
About Human Resources
The Human Resources Division supports the mission and vision of UFA by providing expert assistance to, and acting as a resource for, employees and supervisors. Assistance is provided in a variety of functional areas, including compensation, benefits administration, new hire/promotional processes and employee relations issues such as performance, engagement and discipline. We provide this assistance in accordance with UFA values, the expectations of UFA leaders and in a professional, confidential, responsible and caring manner.
Specific responsibilities include:
Recruitment and selection
New-hire and promotional examination development and administration
Job analysis and classification
Wage and benefit comparison studies
Benefits administration
Supervisor and new-hire training and orientation
Supervisor and employee consultation
Workers' compensation administration
Assistance to ill or injured employees as they return to work
Medical services coordination, including annual employee physicals
Drug and Alcohol Testing program
Employee Service Award program (commemorative coins)
Maintenance of employee records and analysis of employee data, including administration of the HRIS system (Kronos)
Facilitation of the resolution of complaints, grievances and appeals
Assistance with professional standards inquiries and investigations
Policy research and development
Liaison with Gallagher Benefit Services, Utah State Retirement Systems, SelectHealth, CompuSys (VEBA administration), APA Benefits, and other related providers
Division Leader
Human Resources Director
Kiley Day
Organizational Structure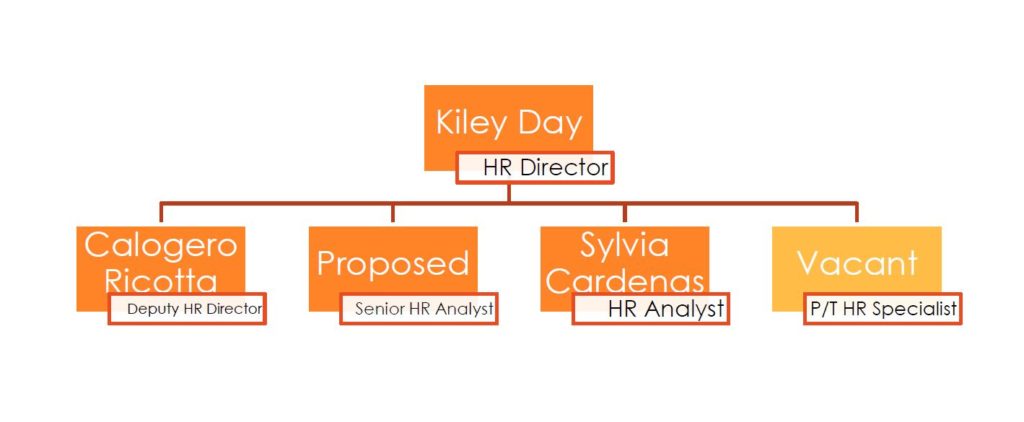 FY20/21 Accomplishments
Administered an entry-level firefighter process and established a one-year hiring list while making innovative accommodations related to the social distancing aspects of COVID-19.
Administered promotional/selection processes for Captain, Battalion Chief and several Staff Captains and Firefighter Specialists.
In conjunction with the Safety Officer, administered approximately 1,000 COVID tests; conducted contract tracing for 90+ employees with a positive COVID result and provided information for daily reports of the Incident Management Team related to COVID cases and incident responses.
Participated in researching and facilitating compliance of the organization regarding the HR-related provisions of the Coronavirus Aid, Relief and Economic Security Act (CARES). In association with increased work-from-home situations, assisted in developing a Telework policy.
Revised existing policies, and created new ones, related to the hiring, promotion, selection and development of sworn and civilian employees.
Assisted the Administration and Planning Section in conducting an RFP process and selecting a new Employee Assistance Program provider.
Modified the policies and programs that employees utilize to manage injuries and illness based on recommendations from the Staffing Workgroup and Command Staff.
Conducted a thorough wage comparison study for all sworn Firefighter ranks which assisted the organization in reaching the goal of matching wages for the sworn staff to the top three compared to the identified comparison agencies.
In conjunction with the Safety Officer, revised the Drug and Alcohol Testing policy and delivered associated training to employees and supervisors in the form of podcasts and an LMS video.
Offered seminars regarding the specifics of social security for sworn employees in retirement and general financial planning for retirement; continued to relay ongoing webinars and related articles to employees throughout the year to help them better understand and utilize their available benefits.
FY21/22 Action Items
Assist Information Outreach in identifying and improving recruitment efforts for entry-level sworn and civilian positions that reach diverse populations by July 2021
Review, revise and develop policies associated with pay practices, compensation strategy and the application of various service dates by July 2021
Complete an RFP/RFQ process for new-hire screening processes and drug and alcohol testing/MRO services to ensure competitive pricing and effective practices by October 2021
Identify opportunities and create action plans, specific to our Division, to assist in fortifying existing behavioral health programs and reduce unnecessary stressors for our employees by October 2021
Administer an entry-level firefighter process, that includes a new provision that will enhance the organization's ability to recruit and hire experienced paramedics, by November 2021
Improve the job description format to reflect key tracking data for EEO and FLSA reporting, and to better utilize the Kronos HRIS system; update all sworn and civilian job descriptions, including the addition of leadership competencies by December 2021
Complete a wage comparison study for all sworn firefighter ranks by January 2022
Work with the Business Technology and Intelligence Manager to ensure that information and data within the HRIS and payroll system (Kronos), the benefits reporting system (Navigate) and the applicant tracking system (ApplicantPro) is accurate, reliable and beneficial and is also able to be retrieved and utilized effectively, easily and efficiently by March 2022
Administer promotional examination for Captain in Spring 2022 utilizing third-party developers and administrators and establish the two-year promotional list
Provide several educational opportunities (e.g. podcasts, webinars, seminars) to help employees better understand and utilize their benefits, including those, like the VEBA program, that help them prepare for successful retirement by May 2022
Develop a comprehensive Civilian Classification and Compensation Program that utilizes complex wage comparison analysis, best practices and current compensation strategy to determine appropriate pay grades for all civilian positions and includes an updated rotation schedule for evaluating positions on an on-going basis by June 2022
Assist Administration and Planning Section in revamping the Tuition Assistance program to maximize utilization in coordination with the Professional Development Plan, including an analysis of utilization, need, and recommendations for revisions by June 2022
Work closely with the Administration and Planning Section as they establish programs to develop and prepare individuals for leadership positions and incorporate established leadership competencies by June 2022