EMS
About EMS
The purpose of the Unified Fire Authority Emergency Medical Services (EMS) Division is to Support Emergency Operations personnel with their delivery of excellent and effective patient care to the citizens and communities we serve. The EMS Division will assist UFA personnel with obtaining and maintaining required EMS Licensure. These efforts are facilitated by delivering initial and continuing medical training and education to UFA personnel. UFA EMS Division assists personnel by assigning and tracking necessary training hours through learning management system software, Target Solutions. Specific training hours are required for EMS Professional Licensure by Utah Bureau of Emergency Medical Services and NREMT. The EMS Division assists personnel with the biannual re-licensure process. We focus our training efforts utilizing excepted National Standards, American Heart Guidelines, State and local protocols and best practice principals. EMS service delivery is continually evaluated with a Quality Assurance/Continuous Quality Improvement (QA/CQI) process with the goal of improving patient care and patient outcomes and providing personnel with opportunities to sharpen and hone their skills as EMS providers.
The EMS Division contains Biotech and Medical & Fire Records management and reconciliation responsibilities. The focus of Biotech is to support field personnel's ability to provide and document patient care delivered to the citizens Unified Fire Authority serves. Biotech accomplishes this by managing the technologies used by field Paramedics and EMT's to deliver care. This includes Zoll patient care monitors, Auto-Pulse automated CPR devices, batteries and charging systems. Biotech supports the field and Medical Division by managing the Salto software and locks that allow access to the stations and controlled substance safes. Biotech supports the Records and Compliance Office by managing the software used to collect data and create records for every medical and fire incident UFA responds to. Biotech supports the EMS Division with improving documentation and the QA/CQI process.
There continues to be value in the EMS Division and its programs as we meet the needs of the UFA's Vision, Mission and Values and enhance the overall support of effective and efficient service delivery.
Services Provided:
Initial Education and Quality Assurance
EMT Course for new firefighter hires needing EMS licensure
EMT Course for civilians
Support of Advanced EMT training (External)
Paramedic Training (UFRA Facilitated)
Quality Assurance & Continuous Quality Improvement (QA/CQI)
EMS Skills verification (New Hire & existing personnel)
American Heart Guidelines and Certifications for personnel, CPR, Pediatric Advanced Life Support (PALS) & Advanced Cardiac Life Support (ACLS)
American Heart Association Training Center Coordination
Training Equipment Maintenance
Continuing Education
Continuing Medical Education (CME)
Scenario based medical training
EMS Committee Management
Sponsored Seminars & Training
Training partners with area hospitals and other EMS agencies
Associate and Community Instruction
Naloxone Education Support
Support & Outreach
Support Community CPR/Push to Survive/Stop the Bleed/Naloxone Initiative
Records Management (Data Collection)
Ambulance Billing and Review
Report Review/Evaluation
Hospital Interface & Partnership
Medication Tracking (Controlled Substances) Target Solutions Check It
Service on Outside Agency Committees: State/District/Alliance
BioTech
Software management and maintenance

Electronic PCR software
Electronic NFIRS software
Electronic software installed on field tablets
Salto system-Station and Building Access & Controlled Substance Safes

Durable Medical Equipment management and maintenance

Cardiac monitors
Automatic CPR Device
AED's
Tablet Hardware, Mobile Data Terminals

Other equipment

Salto locks & Controlled Substance Safes
Division Leader
EMS Division Chief
Jay Torgersen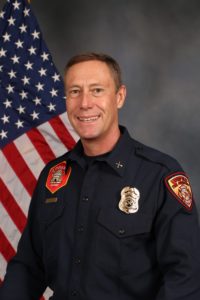 Organizational Structure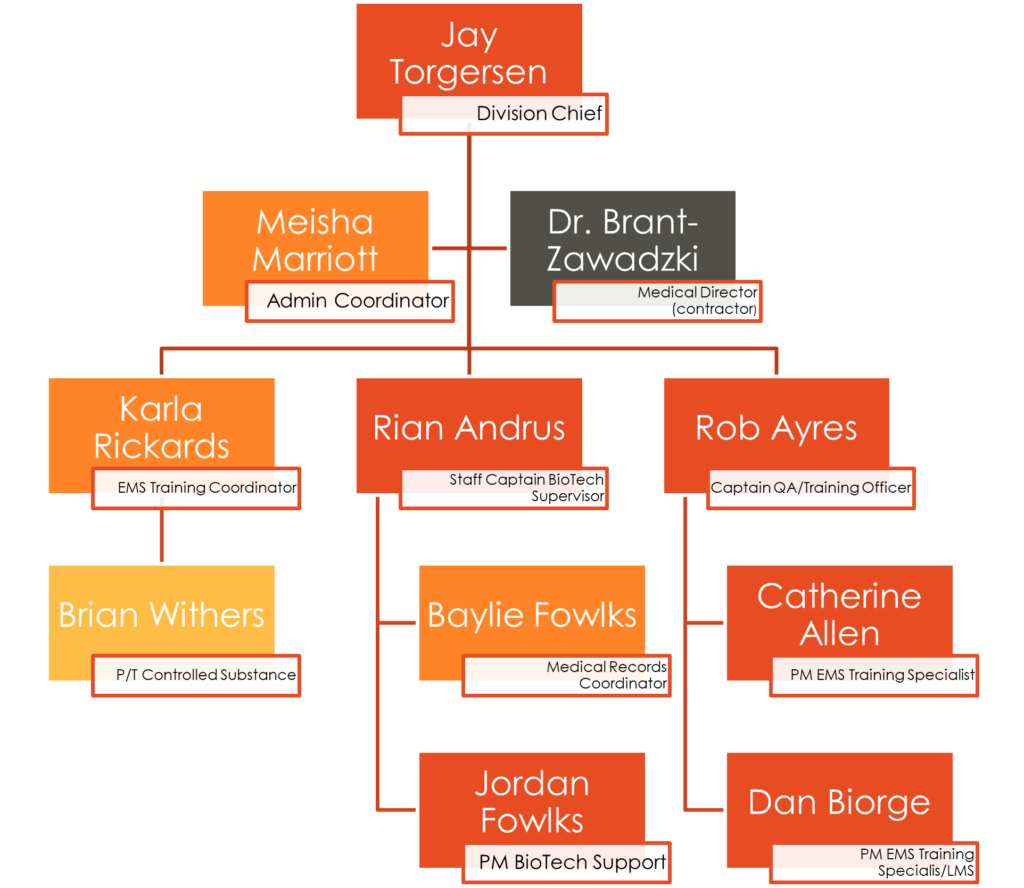 FY20/21 Accomplishments
Navigated the many challenges related to COVID
Established COVID related EMS protocols, procedures & training
Provided COVID guidelines, procedures, and protocols to protect EMS providers and ensure high quality EMS care
Provided training opportunities given the challenges of COVID and social distancing
Recruited and hired a new Medical Director
Implementation of video laryngoscope for ALS airway management in the field
Provided a two-year training outline and plan to meet NREMT licensing requirements
Developed training and tracking system within Target Solutions for EMS licensing
Scenario-based training provided to all personnel
ACLS & CPR training and testing for all department personnel
Check-It controlled substance tracking & PCR reconciliation
Tracking of outstanding PCRs and fire reports with updates sent to personnel weekly
A-EMT course for UFA personnel coop with PCFD
EMT training completed for Non-licensed UFA recruits
Successfully assisted personnel with transition to NREMT Licensure process
Life Saving awards tracked and given out to UFA personnel and civilians
Successfully passed all Utah State Bureau of EMS (BEMS) audits
Successfully completed DEA audit of our controlled substance tracking program
426 CPR certification classes (COVID significantly reduced the number of class offerings)
Instructed CPR, ACLS, and PALS courses to University of Utah Physician Assistant program
Continued support of Rescue Task Force (RTF) training
Trauma Training
ePCR QA reviews to assist crews with improving documentation and patient care
Quality assurance program continues to support and improve Emergency Medical Service delivery and the needs of our service providers
FY21/22 Action Items
Provide continued scenario based hands-on medical training opportunities to on-duty crews with increased frequency
Increased focus and Medical Director involvement with the UFA QA/CQI process on an effort to improve patient care and provide needed support and training opportunities for our EMS providers
Comprehensive EMS Policy and Protocol Review
Continued support of public outreach programs to provide civilian CPR and EMT courses and support Push to Survive/Utah Naloxone/Stop the Bleed
Continued focus and refinement of UFA's updated electronic system for Controlled Substance inventory, tracking and accountability (Check-It).  This will enable real time tracking of controlled substances and facilitate more efficient supply restocking procedures
Provide support to UFA personnel with EMS licensing process – this includes training, tracking, and documentation through LMS and providing needed training to fulfill NREMT & BEMS licensing requirements
Develop EMS Skills evaluation and development process/program
Identify and implement a new electronic patient care report (ePCR) program – this effort will focus on the user experience, NEMSIS and State reporting requirements, billing requirements, and the ability to gather data to improve our QA process