Emergency Management
About Emergency Management
Salt Lake County Division of Emergency Management serves our citizens by directing and coordinating resources for disaster and emergencies through mitigation, prevention, preparation, response and recovery.
Emergency management is one of the functions that is required by state statute for counties to provide to their citizens. When Unified Fire Authority came into being in July 2004 part of the interlocal that formed UFA specified that the emergency management function within Salt Lake County (SLCo) would be the responsibility of UFA. As a result, UFA functions as an agent of Salt Lake County providing the emergency management function for the approximately 1.2 million citizens and visitors within the 16 cities and towns, 5 metro townships and unincorporated areas that comprise Salt Lake County. This service is provided within the framework of five "pillars" that constitute the core functions of emergency management. These five pillars are mitigation, prevention, preparation, response and recovery. Below is a sample of the services provided by the Emergency Management Division.
Preparation, execution, maintenance and oversight of:

Comprehensive Emergency Management Plan

Multi-Hazard, Multi-Jurisdiction Mitigation Plan

Emergency Communications Plan

Coordination and direction of response and recovery from large and/or severe emergencies affecting Salt Lake County
Support of all cities, towns, townships and unincorporated areas of Salt Lake County for disaster/incident mitigation, prevention, preparation and response
Primary coordination point for emergency management activities with the State of Utah
Oversight of Salt Lake County Local Emergency Planning Committee (LEPC)
Basic and advanced National Incident Management System (NIMS) training for all full-time SLCo employees
Maintenance of SLCo NIMS training records
Basic and advanced Emergency Support Function (ESF) training to designated SLCo employees
Operations and maintenance of the SLCo Emergency Coordination Center (ECC)
Operations and maintenance of the SLCo Joint Information Center (JIC)
Grant administration and support for relevant state and federal grant programs
Backup and support of State of Utah Division of Emergency Management
SLCo Policy Group guidance during incidents/disasters
County wide direction for Schools Aid Families in Emergencies (S.A.F.E.) Neighborhoods program
Planning and execution of federally required exercises
Coordination and distribution of information from the State Intelligence Analysis Center
Division Leader
Emergency Management Division Chief / Salt Lake County Emergency Manager
Clint Mecham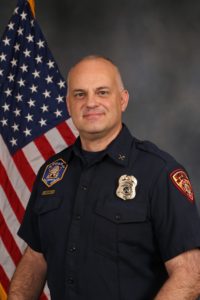 Organizational Structure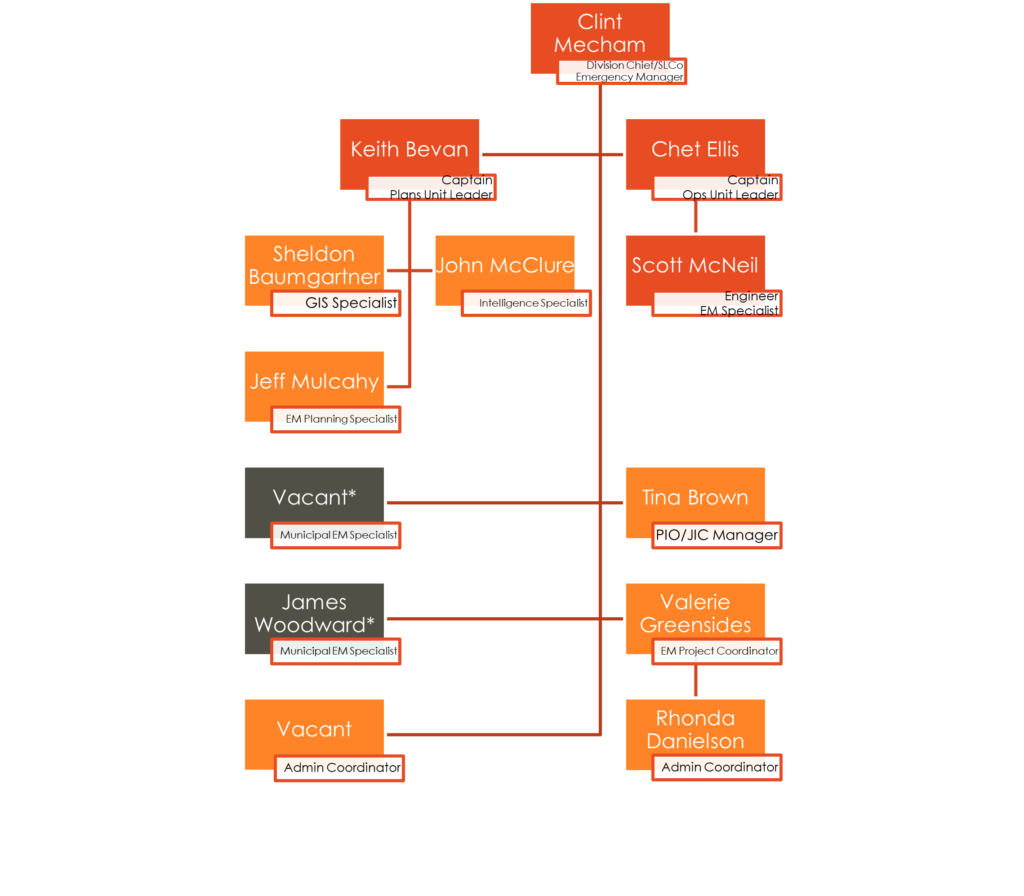 * The Municipal EM Planners are budgeted and expensed through the Administration budget, and they report directly to Chief Mecham and the jurisdictions they provide service.
FY20/21 Accomplishments
Activated to "Enhanced Watch" (BLUE) level: severe weather (snow) February 3, 2020
Activated to "Level 3" (Yellow) level: COVID-19 positive cruise line patient transfer February 28-March 1, 2020
Activated to "Level 2" (Orange) level five times, 208 days (since July 1, 2020):

Ongoing COVID-19 response March 1, 2020 (311 days)

Civil Unrest May 20-25, 2020

Parley's Canyon fire August 6-8, 2020

Straight Line wind event September 8-20, 2020

Neff Canyon fire September 21 – October 5, 2020

Vice Presidential Debate – October 7-9, 2020

Coordinated five Emergency Management Assistance Compact (EMAC) missions for the State of Utah, including:

California deployments (3) – 53 days total in August, September, and October 2020

Oregon deployments (2) – September 9-15, 2020

375 continuous days of activation as of this writing
Over 500 persons working in organizational structure, including UFA and SLCo staff

UFA staff overseeing testing operations

UFA staff overseeing/coordinating vaccinations for all first responders in Salt Lake County

Delivery of National Mutual Aid System (NMAS) training to entire State of Utah fire departments as part of an effort to lead the state is streamlining EMAC process
FY21/22 Action Items
Continue to prepare Salt Lake County for catastrophic incidents/emergencies
Continue to foster a culture of readiness in Salt Lake County
Reduce complexity of the systems within emergency management in Salt Lake County
Successfully complete Complex Coordinated Terrorist Attack (CCTA) grant through performance period by September 2020
Successfully complete and promulgate the Salt Lake County Comprehensive Emergency Management Plan (CEMP) and its associated annexes by December 2021
Successfully complete and implement an updated Interlocal Agreement (ILA) with Salt Lake County defining the roles and expectations of the emergency management division by June 2022. This is a lesson learned from the emergency responses experienced in 2020
Prove for memorialization and maintenance of emergency management processes, procedures and plans in conjunction with above mentioned CEMP and ILA by June 2022
Integration of processes, procedures and plans with existing technology systems and programs to minimize time consumption and reduce number of disparate systems
Re-establish countywide C.E.R.T. committee and train-the-trainer program – Two train-the-trainer courses and one program manager course annually
Continue & expand training and exercise on SLCo government – Ongoing
Emergency Management Accreditation Program accreditation attained by December 2022