Administration
About Administration
Administration provides general leadership, support, and counsel for all sections and divisions within UFA. The budget spans personnel and expenditures for both the Office of the Chief and the Administration and Planning Section.
The personnel and line-items associated with the Administrative budget assist in the achievement of the organizational vision and mission by providing and overseeing the following areas: legal services, policy oversight, records and compliance, risk management, safety, behavioral health and wellness, labor relations, professional standards and ethics, travel, governmental relations, professional development, and strategic planning.
Division Leaders
Fire Chief
Dan Petersen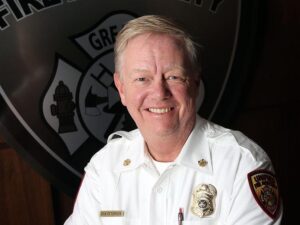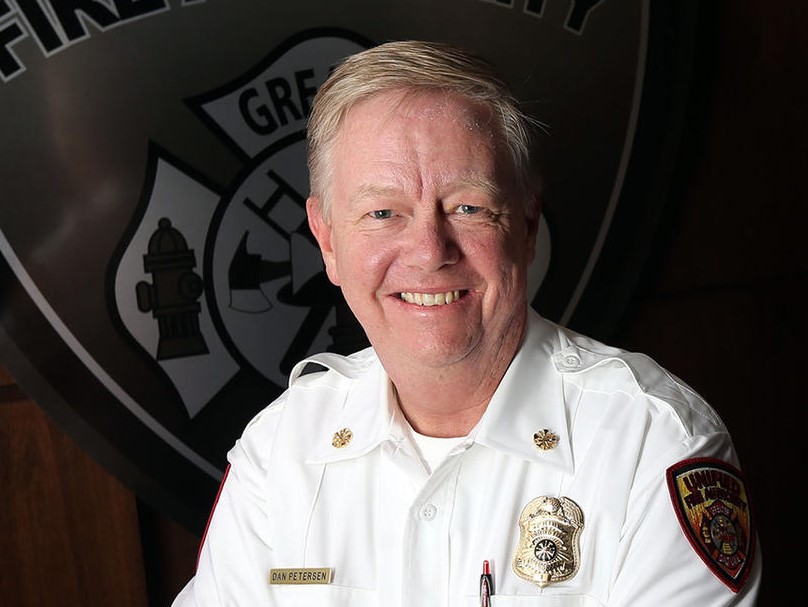 Assistant Chief of Administration and Planning
Riley Pilgrim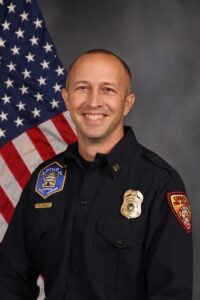 Organizational Structure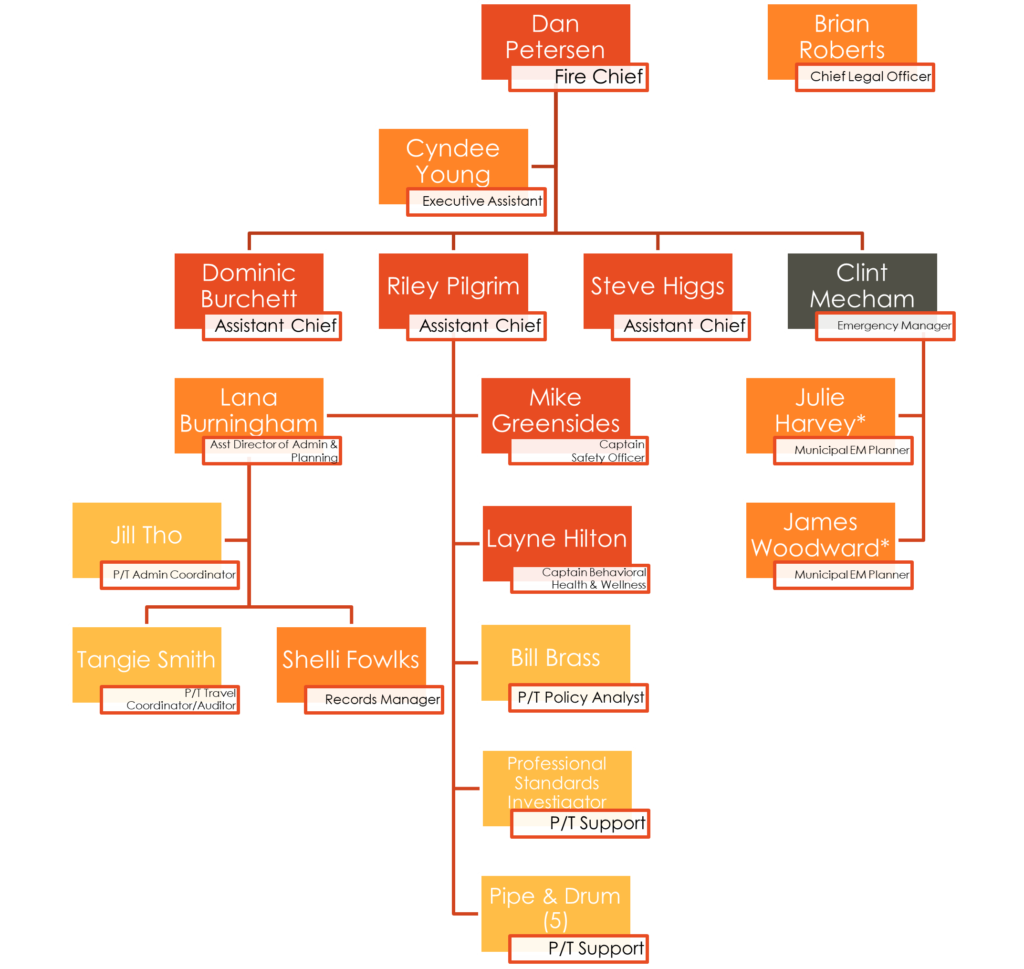 * Division Chief Mecham is budgeted and expensed through the Emergency Management budget, and he reports directly to Chief Petersen. The Municipal EM Planners are budgeted and expensed through the Administration budget, and they report directly to Chief Mecham and the jurisdictions they provide service.
FY20/21 Accomplishments
Office of the Chief/Administration & Planning
Developed a new three-year community based strategic plan
Completed 72% of the initiatives for the Strategic Plan 2018-2021
Adopted a full set of Board Policies that establish exclusive control for the Board of Directors for policy matters for the UFA
Implemented a minimum fitness standard with a three-year phase in period. All operational personnel walked through the evaluation in 2020
Hosted a workshop on "Compassionate Leadership" by Professor Bendersky from UCLA for the 2020 Captain Boot Camp and a separate presentation for UFA Leadership
Implemented the new Employee Performance and Development evaluation process that focuses more on performance and development instead of scores
Created a new Behavioral Health and Wellness Officer position who works full-time counseling and assisting our personnel in their behavioral health
Began a behavioral health assessment program through the University of Utah to establish a baseline and provide initial treatment for our personnel. In addition, the University will use the information as part of a research program to improve the health of Firefighters
Transitioned to a new Employee Assist Provider (EAP) Blomquist Hale with a program tailored for first responders and their families
Employees received approval in December for a mid-budget wage increase on January 1, 2021, to maintain the "Top 3" position in wages after a six month delay due to concerns of the pandemic's impact on the economy
Reduced the number of years for employees to reach the top step from eleven to nine
Approved a policy on withdrawal from the UFSA that allowed two cities to transition from UFSA to a direct contract member in a positive healthy manner
Worked with HR and Operations on revising the leave practice policies to overcome challenges
Completed over 80 UFA policies and guidelines
Maintained all platforms (Policy Drive and Target Solutions) with new policies, procedures, and guidelines as they were approved
Maintained database of replaced policies and procedures as part of records management
As part of the process of educating employees on retirement, provided resources and education for twelve retirees with retirement information
Risk Management-Safety/Behavioral Health and Wellness
Ten employees began a cohort with the Skaggs Wellness Center to improve their overall health and fitness in the fall 2020
Equipment was purchased to provide full-time sworn employees opportunities to become familiar with tasks proposed for the minimum fitness standard, making equipment available for members to use away from the Fire Training campus
Majority of full-time firefighters participated in orientation of the proposed minimum fitness standard
Health and Safety Officer provided 649 hours of support in 2020 for COVID-related issues. This includes developing policy and procedures, referring members to testing sites, tracking, and supporting members who tested positive for COVID-19, tracking members exposed on or off the job, administering antigen tests for employees and submitting their results to the State Health Department
Health and Safety Officer participated as a member of our COVID command team, tracking 606 cases of employees having symptoms or being exposed to a possible or known person with COVID-19 without protective equipment. During this same period, 76 employees acquired COVID
Broadened our partnership with Utah Local Governments Trust to provide insurance coverage for our property, liability, excess flood/ earthquake, and cyber exposures
Facilitated the appraisals of property and contents to ensure proper valuation for insurance
Provided safety and risk management training for employees in topics such as firefighter health and safety, powered industrial truck (forklift) operations, infectious diseases, and driver training
Health & Safety Officer maintained involvement with Utah Local Governments Trust – Trust Advisory Committee
UFA Safety Officer continues as a contributing member with the Utah Safety Council
Behavioral Health and Wellness Officer provided over 885 clinical hours to employees and referrals to over 150 employees and their families
Established the UFA Peer Support team and implemented one of the Nation's most progressive programs
Behavioral Health and Wellness Officer set-up 10 new specialty therapist vendors for referrals
Provided sixteen Behavioral Health After Action Reviews (Formerly Critical Incident Stress Debriefings (CISDs)) within our department including attendance from participating public safety agencies
Assisted seven other agencies set-up Peer Support Programs
Records and Compliance
Provided training to all Division Records Administrators and prepared for annual record destruction
Updated the UFA Record Retention Schedule with the approved State General Records Retention Schedules, and receive Command Staff approval
As part of our compliance with HIPAA, the Security Risk team identified risks and implemented measures to eliminate or mitigate the risks
Conducted a cost analysis for processing records to include staff time, supplies, and postage
FY21/22 Action Items
Office of the Chief/Administration & Planning
Begin formal approach to a Mission Driven Culture in UFA by June 2022
Continue to re-evaluate the Employee Performance and Development Evaluation process and make revisions and enhancements in future years by December 2021
Continue the process of implementing the FYI leadership Competencies in all UFA positions by June 2023
Provide leadership training for our supervisors to include "Crucial Conversations", "Situational Leadership," and "Leading with Compassion" by June 2022
Work with Business Technology to implement a new document software program to provide a system that enables Administration the ability to store, edit, distribute, and track policy and compliance-related content by June 2022
Revamp the Tuition Assistance program to better align it with the Professional Development Plan, including an analysis of utilization, need, and recommendations for revisions. Ensure the funds are utilized efficiently and effectively to support educational opportunities for UFA's employees by June 2022
Complete the transition of the Professional Development Plan into policy by July 2021
Continue to update or write new policies, procedures, and guidelines for FY21/22
Formalize a program to educate firefighters on retirement by June 2022
Transition to new policy format, either through new software or manually create a new format and system for managing policies by June 2022
Risk Management-Safety/Behavioral Health and Wellness
Proactively assess at least eight facilities for workers health and safety concerns by utilizing Utah Occupational Safety and Health (UOSH) Consultation Comprehensive Safety & Health Surveys by June 2022
Provide focused quarterly driver training programs to increase competency and goal of decreasing the number of preventable annual vehicle collisions by December 2021
Provide redacted synopsis of vehicle collisions, reported occupational injuries and illness, and other pertinent risk management considerations to employees monthly to increase awareness of trending issues by November 2021
By August 2021, provide monthly executive summary of workers compensation, vehicle collisions, and other claims to Command Staff
Assess the implementation of data collection based upon the National Fire Incident Reporting System – Fire Service Casualty Module (NFIRS-5) by March 2022. This module is to collect information on incidents where firefighters become ill or injured. Data provided has the potential of better assessing the causation of employee illness, injuries, and assist with the data collection for the annual NFPA report
Implementing the Resiliency/Mind Shield training program with the Peer Support Team by March 2022
Provide training to the Peer Support team to improve their knowledge, skills, and ability to effectively provided behavioral health support to co-workers by June 2022
Identify and implement additional Behavioral Health programs to address the needs of department membership by June 2022
Records and Compliance
Provide training and information as needed for all Division Records Administrators. Meet with Division Records Administrators individually to ensure that the Records Retention Schedule is meeting the needs of their division by January 2022
Records Destruction – schedule for destruction of records that have met retention. Involve Division Records Administrators in process as needed for approval of destruction and care of division records by February 2022
Record Retention Schedule – prepare for updates based on needs of each division. Prepare the Records Retention Schedule for Chief and Attorney approval and release by June 2022
HIPAA Policy training – provide training for all stations through in-person gatherings or ZOOM by June 2022
HIPAA Training for Business Associates – Conduct HIPAA Training for Business Associates that have access to electronic Protected Health Information (ePHI) such as LesOlson through the Target Solutions Learning Management System (LMS) (ongoing)
Collect Q&A through in-person HIPAA Training and make available to all employees through the Learning Management System (LMS) by July 2022
Electronic Records Management – identify or provide a process for safe use and storage of electronic records through the records lifecycle by August 2022
Security Risk Management – identify risks and implement measures to eliminate or mitigate risks to electronic Protected Health Information (ePHI). The Security Risk Management Team will meet quarterly to discuss the health of our servers/systems and to address security issues regarding Protected Health Information
Identify an Electronic Records Management system or process that will allow for division accountability regarding the creation and management of digital records, ease of access, document integrity, necessary safeguards, and long-term or permanent storage as needed according to the Record Retention Schedule by July 2022