Fire Chief

Dan Petersen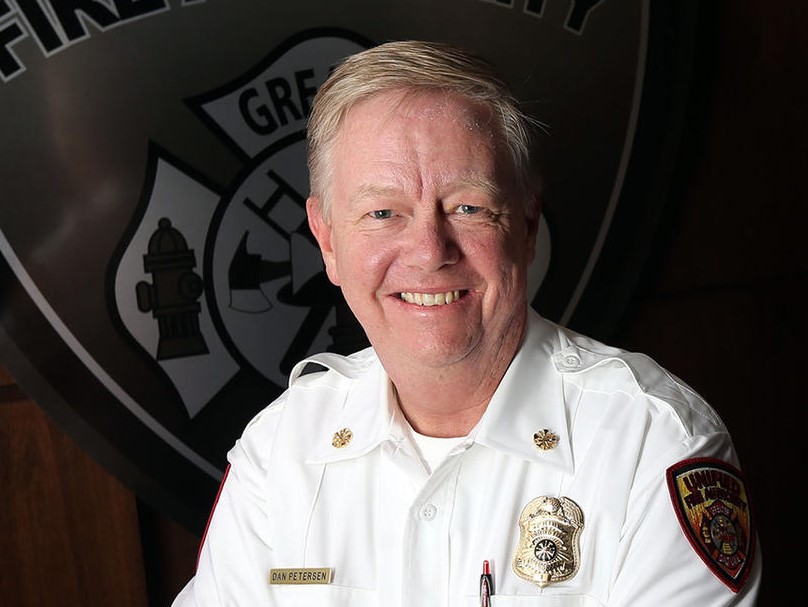 On January 17, 2017 Dan became the Fire Chief for the Unified Fire Authority and moved to Salt Lake City, UT from Oregon.
Dan began his fire service career in 1979 as a Volunteer Firefighter in Josephine County, Oregon. From 1980 to 1988 he worked for Valley Fire Service (now known as Rural Metro) serving as a Firefighter, Engineer, and Captain. Dan worked for Medford Fire-Rescue in Oregon from 1988 through 2010 serving as a Shift Battalion Chief, Training/EMS Chief, and Deputy Chief of Administration. Between October 2010 and January 2017 he served as the Fire Chief for Jackson County Fire District 3 in Southern Oregon.
Dan has held executive offices for the Oregon Fire Chiefs Association, Oregon Fire Instructors Association, Rogue Valley Fire Chiefs Association, and the Rogue Interagency Training Association. Dan holds the honor of life membership with the Oregon Fire Chiefs Association, Oregon Fire Instructors Association and the Rogue Fire Training Association.
Dan holds a Masters in Management from Southern Oregon State University, a Bachelor of Science in Fire Administration from Western Oregon State University, and an Associate of Science in Fire Science from Rogue Community College. Dan is a graduate of the National Fire Academy Executive Fire Officer Program and is an accredited Fire Officer 4.
Dan is originally from the Chicagoland area and a big fan of the Chicago Cubs and Blackhawks. He and his wife Jenni have been married since 1984 and have two children, both currently living in Oregon.
Office of the Fire Chief oversees:
Administration
Executive Assistant
Information Outreach
Legal (reports directly to the UFA Board)
Assistant Chiefs and Chief Financial Officer