Podcast: COVID-19 Update and Vaccine Q&A
January 19, 2021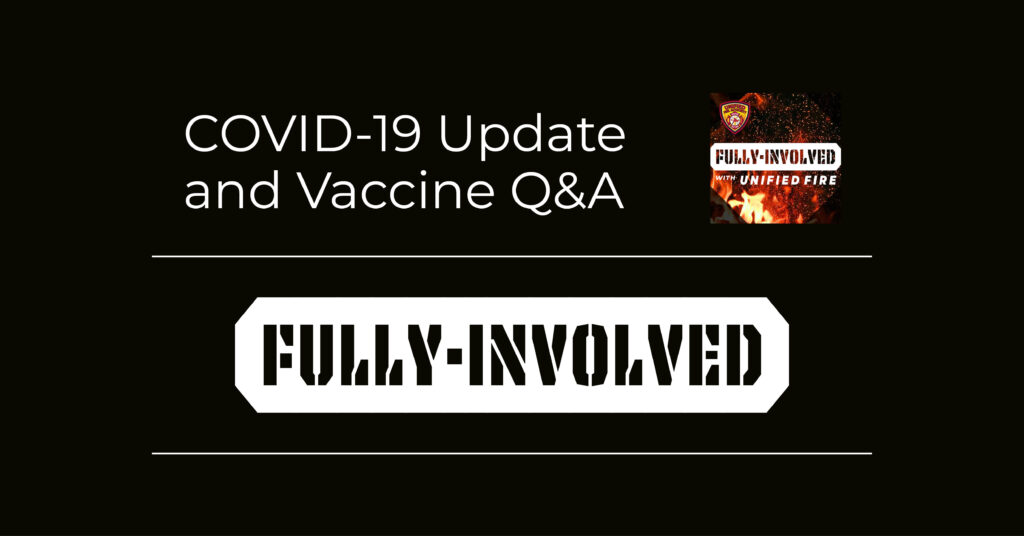 Fully Involved with Unified Fire
COVID-19 Update and Vaccine Q&A
January 13, 2021 – Season 1 – Episode 8
Available anywhere you listen to podcasts.
Don't use Spotify? You can also listen here on our Buzzsprout website.
On this episode:
In the first part of the show, we are joined over the phone by Specialist Bethany Bitter. She relays her difficult, recent experience with COVID-19 and what the lengthy recovery process has been like. Captain Greensides also talks about his experience and notes the similarities and differences between their cases. Later on, Dr. Graham BZ joins to discuss the vaccines available to our department and answer some of the questions people have who are hesitant to get it.
Guests:
Operations Chief Dusty Dern
Health & Safety Officer Captain Mike Greensides
HazMat Specialist Bethany Bitter
UFA Medical Director Dr. Graham Brant-Zawadzki
Follow us:
Facebook – @unifiedfireauthority
Instagram – @unifiedfire
Twitter – @fireauthority