Fire Prevention
About Fire Prevention
The Fire Prevention Division works together with businesses, city departments, developers and community partners to provide the life safety standards expected by our citizens where they live, work and play in their communities. We provide technical information using a consultant-like and service-oriented approach. The Fire Prevention Division is also responsible for the application, administration and enforcement of the International Fire Code as adopted by the State and your communities. This process provides fire and life safety standards for buildings, helping to protect people and property from the hazards of fire, explosion or dangerous conditions in new and existing buildings and promote firefighter and emergency responder safety during emergency operations.
We provide a wide range of business services, including:
Technical plan reviews of new construction projects including: Fire protection systems, fire sprinklers, fire alarms, and special systems
Acceptance testing for fire protection and alarm systems
Fire safety inspections for existing facilities
Standby duties for large public events
Fireworks permits for public displays
Hazardous Materials Permits
Division Leader
Fire Prevention Division Chief / Fire Marshal
Brad Larson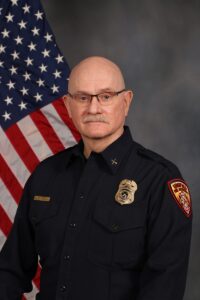 Organizational Structure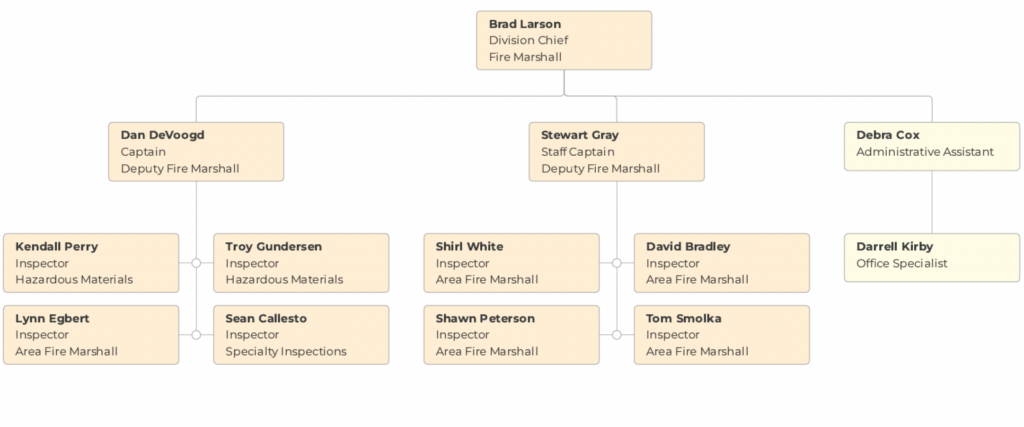 FY22/23 Accomplishments
Completed 7,177 occupancy and fire protection systems inspections (8% increase)
Made initial contact with all our Multi-Family Residential complexes, obtained updated contact information, distributed nine separate safety messages to over 6,000 individual residential units, inspected 44 complexes.
Started partnerships and working group with the goal to reduce falls for the elderly and provide other needed services to reduce injury and calls for emergency response.
Ensured all cities/jurisdictions have incorporated Appendix D of the Fire Code into their engineering standards.
All Fire Prevention Personnel received over 40 hours of fire code and leadership training to enhance our ability to apply the safety provisions of the code in efforts to ensure the safety of those who enter a public space.
Launched a comprehensive cloud based digital inspection program (LIV) for use by our fire crews and inspectors, with data analytic capabilities to help a more targeted approach with the end goal of improving safety for our citizens as they enter a public space. Battalion Chiefs have access to quarterly progress reports to assure all business are receiving safety inspections.
Issued 938 Hazardous Material Permits, a 10% increase.
Nationally recognized Fire Inspector II and Fire Inspector I certifications received by three personnel
Juvenile Fire Setters Program revamped and implemented in partnership with Special Enforcement Division.
FY23/24 Action Items
Continue multi-family housing inspections and safety program – visit all 160 Complexes to provide safety information as well as evaluate for fire safety compliance
Ensure all cities/jurisdictions have incorporated Appendix D of the Fire Code into their engineering standards
Enhance learning and knowledge of the fire code for all Fire Prevention personnel by at least 40 hours of accredited code training
Assess and track company fire inspections, provide support and numbers to Battalion Chiefs to ensure completion by providing a quarterly report